Gwangju Folly II In-between Hotel
Do-Ho Suh | Rep. of Korea

An itinerant structure, the Korean artist Do Ho Suh and Suh Architects's In-between Hotel is both strange and familiar. It slips through the fabric of Gwangju's public identity: a temporary dwelling unit activating aspects of Gwangju that have eluded the grand narratives.
Hosted by Gwangju Metropolitan City | Organized by Gwangju Biennale Foundation
Director | Nikolaus Hirsch
Curators | Philipp Misselwitz, Eui Young Chun
The design concept of In Between Hotel Mark II
Do Ho Suh and Suh Architects designed the exterior of to blend naturally into the daily alley scene of Gwangju. The interior of the hotel room is created using high-quality finishing materials to express the feeling of both a luxury hotel and a camping car at the same time in a limited space on top of a 1.2-ton truck. Particularly, in the Mark II (2013), an improved model of 2012 , the overall width has been reduced to allow the hotel to fit into a narrower gap and it has been applied with a lightweight and durable airplane finishing material, the Vacuum Forming KYDEX, to make the weight lighter and to increase the mobility of the hotel.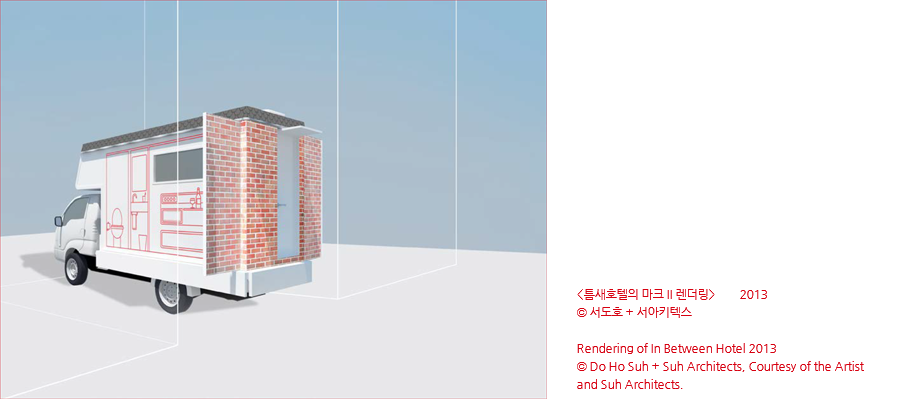 The Specifications of the Hotel
is a miniature hotel in the form of a hotel room mounted on top of a 1.2-ton Kia Bongo III truck. For the exterior of the hotel room, the finishing materials of galvanized pipe structure, insulation panel, and car wrapping film were used, and for the interior, finishing materials of Vacuum Forming Kydex panels, wooden flooring, artificial leather, aluminum anodizing, artificial marble, and LED resin were used to design the room to match the level of a luxury hotel. The dimensions of are 161 cm in width x 337 cm in length x 211 cm in height.

Hotel facilities
Single bed and bedding set, toilet and shower facilities, air conditioning and heating facilities, a kiosk that is also a TV, wireless internet, telephone, external security TV, portable mini refrigerator, electric kettle, tea, coffee, bottled water, towels set, slippers, and free of charge items (shampoo, soap, toothpaste, etc.)